Once we complete a new deck the next step for the customer is most often to begin furnishing the new addition to their home. The question is, what are the best types of furniture to furnish a deck with? This typically depends on what kind of deck you have in terms of the size and space available to you. We want to show you some of our suggestions for new deck furniture down below! Our suggestions are based on our ratings of cost, durability, and ease of maintenance for the different types of deck furniture widely available.

We will mainly be looking at different types of tables, chairs, and umbrellas. There are a lot of different options out there and picking the right one may be tough at first. We've compiled popular options all in to one place in this article to make things easier on you!
Types of Deck Chairs
You're going to buy chairs for your deck, that's a given. If you want properly host guests and enjoy all that your new deck has to offer than chairs, particularly comfortable chairs, are a necessity!
Plastic Chairs
Cost: *
Durability: ***
Ease to Maintain: *****
While they may not be as nice looking as say a wooden or wicker chair, plastic chairs do offer durability and versatility at a low cost. They are easy to store in high quantity allowing you to keep much more of them on hand compared to other types of chairs. Even if you do buy nicer chairs for your main deck area it is still wise to have a stack of plastic chairs somewhere handy in case of extra guests who have nowhere to sit.

Wooden Chairs
Cost: **
Durability: ***
Ease to Maintain: ***
Wooden chairs are clean cut and good looking especially against a deck that likely uses similar materials. They are durable and will last you a long time as well. There are a lot of different design options available to you with wooden chairs and they make a great choice for any deck.
Wicker Chairs
Cost: ****
Durability: **
Ease to Maintain: *****
Wicker chairs have a unique design that some people just really like contrasted with a porch or deck. If you're willing to pay a little extra then they are a great option for aesthetic. However, wicker chairs are not as durable as other chair options so if you want something that will last a little longer and take less of a beating then you may want to go with another option.
Types of Deck Tables
The table is the centerpiece of a great deck. It's where family and friends join together for comradery and merrymaking. It's where the hamburgers go after coming off the grill. It's where card games are played late into the night. We have presented three different table types below that all make great additions to a deck. Of course with any of these tables you may also elect to get a glass table top as well.
Wood Tables
Cost: **
Durability: ***
Ease to Maintain: ***
Wood Tables look fantastic and go real well against the other colors of a deck much like wooden chairs do. The thing to keep in mind about wooden tables is that they are a little tougher to clean messes off of and they can be worn out by inclement weather. Due to this wooden tables do require some upkeep, however if you're willing to properly take care of it then a wooden table makes a great choice.
Steel Tables
Cost: ****
Durability: *****
Ease to Maintain: ****
It's in the name, the tables are steel. What you'll get is top grade durable tables that won't dent and will last a long time. The only concerns to have with steel tables are the weight, whether or not you like the color, and rust. As long as the tables are coated properly rust is avoidable but it is worth paying attention too.
Aluminum Tables
Cost: *
Durability: ***
Ease to Maintain: *****
Aluminum Tables are light and versatile making them easy to move around the deck in case of last second rearrangement or a want to switch up the deck layout! They are easy to clean and can withstand inclement weather pretty well. They are however more prone to denting and damage than a wooden or steel table might be.
Types of Deck Umbrellas
We recommend purchasing an umbrella to go along with your table for your deck. It may not seem like a total necessity at first, but you'll be thankful you have it on those extra sunny days. With that being said we have shared three different types of umbrellas down below!
Table Umbrellas
Cost: *
Durability: **
Ease to Maintain: *****
Table Umbrellas are essentially your standard run of the mill umbrellas. Buying one will be a solid purchase that you really can't go wrong with. The umbrella can be placed right down the middle of the hole in your table and there you go, a nice shade provider for the afternoon party goers.
Tilting Umbrellas
Cost: **
Durability: *
Ease to Maintain: **
Tilting umbrellas are umbrellas that tilt. Imagine that! These umbrellas can be shifted as the sun moves around the sky. If your deck is in an area where it is highly exposed to the sun at all hours of the day then a tilting umbrella may be a much more practical choice than a standard umbrella that is fixed to one spot.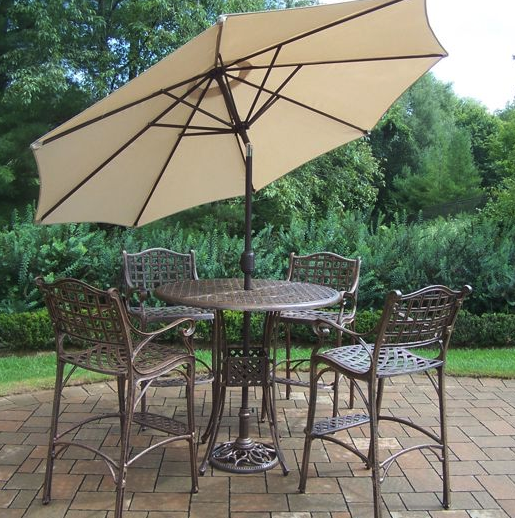 Cantilever Umbrellas
Cost: *****
Durability: *****
Ease to Maintain: ***
Cantilever umbrellas are large umbrellas that have their base away from the table as opposed to in the middle of it. A cantilever umbrella can shade a larger portion of your deck than a typical table or tilting umbrella could. If your deck is large and you want more shading throughout the area than a cantilever umbrella is definitely an option.
---
Nothing in this article particularly reinvented the wheel when it comes to buying furniture for a deck. What we hope it did do though was get the wheels turning on where to begin with buying furniture for your new deck, or maybe it has you day dreaming about the deck you will one day have! Whatever the case, we are happy to help. If you're looking to get an estimate on a new deck of your own, give us a call at 412-312-3142!